What is KidCheck?
KidCheck is Christ Church's kids and youth check-in system. KidCheck's advanced features equip us to keep your family safe and connected in our multi-venue church. Watch the tutorial videos and read on to learn more, or click the blue button below to dive right in.
Why KidCheck?
We use KidCheck for many reasons, including:
The ability to text you when your child needs you - whether you're in worship, a Group, or serving somewhere.
Assurance that no one picks up your child without your consent.
The chance for you to add notes at check-in when your child doesn't sleep well or loses a pet.
Clear visual cues to help volunteers/staff identify allergies, medical information, alerts, and birthdays.
The option to request more than one name tag for diaper bags and other belongings.
The ability to access a copy of your pickup tag in the app to simplify pickup with multiple children or adults.
Key Benefits
Child Safety
Easily create and update a list of who can (and cannot) pick up your child(ren)
Upload optional photos of children and guardians for added security
Provide medical and allergy information and alerts
Secure Information
No one sees you or your child's information until you check-in to Christ Church
KidCheck uses the same secure data technology as banks to keep your information safe
KidCheck never asks for personal identification such as Social Security numbers, credit cards or banking information, and we never sell the information we do gather
Convenient
Speedy check-in - simply input your 10 digit phone number
KidCheck is web-based, so you can create and access your account from anywhere
Text message notifications when your child is checked in and out, or in case of emergency
Account Setup Instructions
Signing up for KidCheck is easy and free for parents, guardians, volunteers, and staff!
Create an Account
Click a button below to create an account or download the KidCheck app on a mobile device.
Select the link to create a free KidCheck account.
Fill in the requested fields, and agree to the terms of use.
Add Children and Guardians
* If you are a volunteer or staff only, and have no kids to add, you may skip these steps.
Locate the "Kids" tab. Select the link to add a new child, input your child's information, and upload photos. Select the save button when you are done.
Locate the "Guardians" tab. This is where you will input additional guardians whom you would like to be able to pick up the children you've listed. Add their information and upload photos. Remember to click save when you are done.
Choose Your Facilities
Locate the "My Facilities" tab. Here you can choose to allow check-in at any facility that uses KidCheck or only allow check-in at Christ Church. To choose the second option, check the second box and click "Add a new facility" in the left column. Search location "mequon" and there you'll find Christ Church. Select the save changes button when done. (see screenshot below)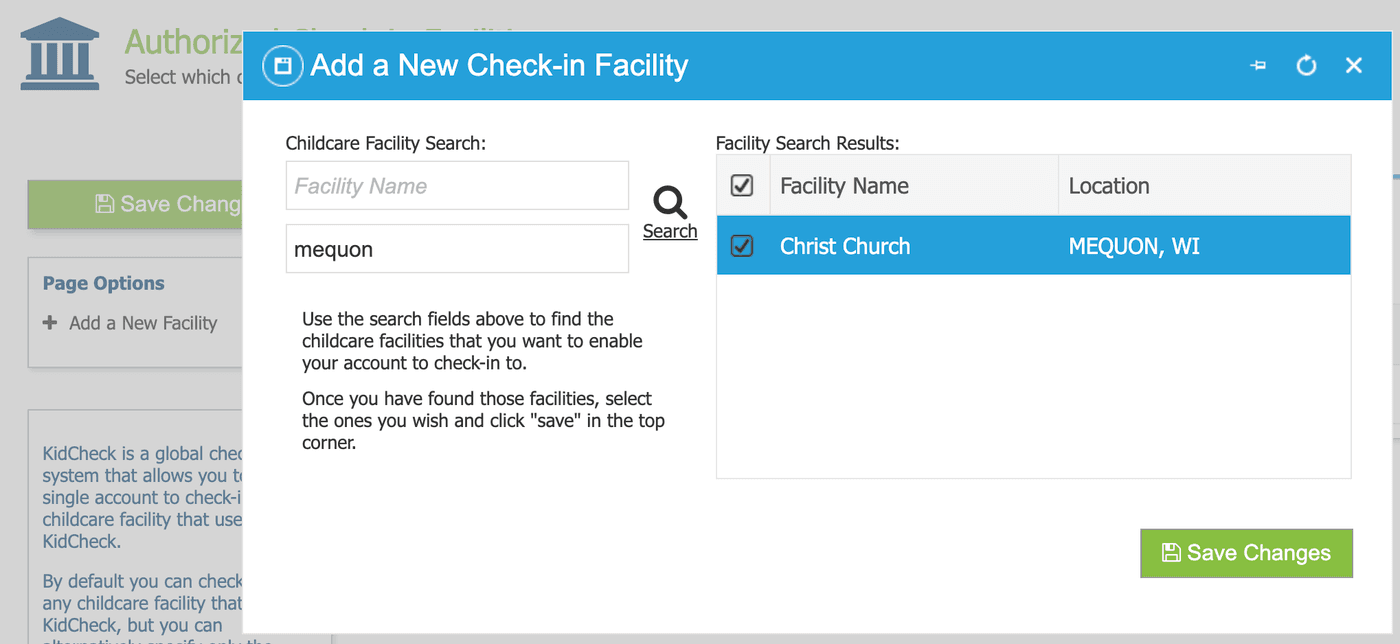 Helpful Tips
Be as accurate and complete as possible with your information.
Add photos so our volunteer team can get to know your family.
Add all guardians, grandparents, stepparents, etc who may drop off or pick up your child in the "Guardian's" tab with their own unique cell phone number.
Download the KidCheck App for Express Check-in options.